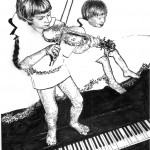 December 25 - Angels We Have Heard on High
Angels We Have Heard on High is a Christmas carol commemorating the story of the birth of Jesus Christ found in the Gospel of Luke, in which shepherds outside Bethlehem encounter a multitude of angels singing and praising the new born child.
In A.D. 129, Telesphous, Bishop of Rome, ordained that, "In the Holy Night of the Nativity of our Lord and Savior, all shall solemnly sing the 'Angel's Hymn.' " With that proclaimation the 'Angels Hymn' became the first Christmas hymn of the Christian church. Its most common English version was translated in 1862 by James Chadwick, and its most memorable feature is its chorus Gloria in Excelsis Deo!, which is Latin forGlory to God in the Highest!
Wishing you and your family and friends a very wonderful Christmas!  Thanks again for all the kind comments on this series of advent tidbits and drawings. Hope it was as fun for you as it was for me!! Merry Christmas!December 25′s illustration is of Orin – age 5 – and Chauncey – age 2 – dressed as angels!