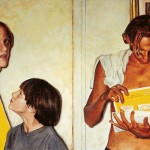 December 23 – Christmas mail
The first Christmas cards were sent in 1843 by Sir Henry Cole, head of the Victoria and Albert Museum in London. Too busy to write letters, he had an artist design 1,000 cards, illustrated with a festive scene on the front and printed with the greeting, "A Merry Christmas and a Happy New Year to You".  In the last 50 years people have tended to send cards and also family photos and Christmas letters that serve as a yearly update for their friends and relatives.  Nowadays a lot of people have changed their Christmas greetings to email, but getting a card or letter, no matter how it is received, brings a genuine joy to most people. A recent U.S. Postal Service study (2010) had people reveal just how important mail is to their daily lives.  It turns out that each day, most open their mail with anticipation and give it their undivided attention. This time has been dubbed the "Mail Moment."  From sorting and organizing to allocating and reading, the Mail Moment defines the highly interactive daily ritual that people devote to bringing in their mail or checking their email and discovering what it offers. Receiving mail evokes mostly positive emotions.  86% of people surveyed said that receiving mail is a "real pleasure" and 75% "looked forward" to discovering the mail they receive.
Today's illustration is not a drawing, but an oil painting I did several years ago of my 3 boys "bringing in the mail."  Orin was 17, Chauncey - 14, and Colby – 6. Now they are respectively 33, 30, and 22. How the years fly by!  Orin is finishing his Doctorate of Musical Arts (DMA) in violin performance from UCSD as well as teaching and performing in various gigs around Los Angeles.  He recently got engaged to a wonderful girl, Allison, and they are planning their wedding in May.  Chauncey has been married for the last few years to beautiful Makino, and they both now dance at Oregon Ballet Theatre and are enjoying Portland's ambiance.  Colby started his first professional company job this year with Alberta Ballet in Calgary, Canada and is loving it!